K-12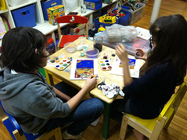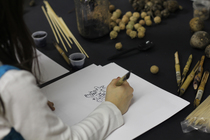 I develop curriculum and exhibition-based educational art projects for museums, institutions, and K-12 schools. Programs are interactive, hands-on, art-making workshops connected to curriculum. Utilizing interdisciplinary and embodied learning, projects contextualize the materiality and creativity of artmaking within historical, technological, scientific, environmental and artistic frameworks. This methodology -
thinking through making-
is foundational to my pedagogy. I also offer
professional development on STEAM for staff and teachers.
I have been developing programs for public and private schools across the region for ages 3 and up for more than fifteen years. Several programs have become a permanent part of the curriculum, including at the Dalton School, and Ethical Culture Fieldston School.
To see more about these programs, visit the
AlchemicalTech
page.
Email
for more information...
Photo:making paints from
stones,bugs and flowers